I know I've been in late this time … But I have 1 year full of concerts between UK, France, Belgium … hope you'll feel better after that cause it's not if I quit going to concerts … never ! ;-).
* December 16th and 18th 2009, I'm going to see The Bluetones, well, not really true, in fact I'm going to see the supporting act, Kizzy Star, Tony McGovern's band, Texas guitar player. Good thing is that I could discover the main band and I must say I quite liked it.
The day that never was
* December 29th, with Fanny & Delphine who were in Glasgow to celebrate Hogmanay with me, we decided to go and see Kevin Montgomery + Jill Jackson.
No need to say who is Jill Jackson as I already started talking about her … For this time she was supporting Kevin Montgomery but then they shared the stage together as they have already done when in the US.
I spent most of my evening taking pictures or videos … I remember how Jill noticed me when she thought I was taking a pic when it was a video I was recording, and when I was looking at my settings and she was waiting for me to take the pic … when I was taking my time to set everything … 🙂
I dedicate this video to my friend Fanny … I'm sure she missed it 🙂
* On December 31st, it was freezing outside but Fanny, Delphine, Frank and I were there to celebrate "Hogmanay" on George Square and see Deacon Blue live, a scottish band, glaswegians, who were more famous in 80s. And no it's not because I'm old enough that I went there. I went there because I wanted to celebrate New Year in a proper way 🙂
There was a really good crack that was a good night 🙂 !
2010 comes, as Celtic Connections, a celtic festival. During 3 weeks bands, musicians and singers will share the same passion : celtic music.
At the hotel we will see lots of bands, and as for a rugby match, there's always a show after the show. So they were playing when back at the hotel … all together ..
* On January 21st I've been invited by Alan Kelly to go to his gig and at the same time to the The Shetland Bus. It's been a while I haven't listened to celtic music, but this evening made me travel far far away from where I was … closer to Ireland …
* On January 23rd I am at on of the concert I expected since a long very long time : Aly Bain et Karen Matheson with the Scottish Ensemble.
Lots of times I wanted to go to the Festival Interceltique in Lorient, France especially to see Capercaillie live (Karen Matheson's band) … but this time I manage to go to one of her show ! I have always said she's got a stunning voice … and it's for real ! While singing in scottish gaelic, her voice let you wander free ! It was such a great evening !!! I will do it again if I can !
* A break during the festival to go and see on January 28th, another glaswegian : Amy MacDonald. It was a concert for her album launch newly out. I didn't manage to listen to it beforehand and seeing it live made me think it was a good one. I 1st saw her live at Main Square Festival, I confirm the fact that I really like the way she performs her songs.
* On January 29th, back in the Festival for a new gig with Jill Jackson. She was just out from her studios where she recorded her new album, she's back on stage with her band and not only for an accoustic set as I was used to see her. Yes, no link with celtic music, but during this festival there are always 1 or 2 artist performing who don't have any link with the main theme.
**********
My 1st rugby match in Murrayfield, Edinburgh on February 7th … I choose this one cause it was Scotland playing against France.
Since I'm in Glasgow (I arrived now 5 months ago), I have never really been proud to be french, but listening to a whole stadium singing the National Anthem gave me goosebumps.
It was worth the trip as France won on this day :).
I took the opportunity to record the Scottish "national anthem" too 🙂
**********
* When you're a fan … you can really do silly things … like going at for 7am at the Hilton Hotel in Glasgow to be part of the audience on the Breakfast Show for Clyde 1. It was on February 11th, and if I did this in was only because Sharleen Spiteri was invited and I won tickets to go. So I had my breakfast with Sophie, Wendy, Claire, Lisa, Frank and Vicky while listening to Sharleen performing live her new single Xanadu. Some mornings can be worse than this one :).
Xanadu
All The Times I Cried
* On May 29th, With Lisa we're going to Perth where Anna, Bertrand, Gaelle, Annaick already are. Tonight Sharleen Spiteri is playing live. A mini tour with 3 venues : Aberdeen, Perth and Glasgow.
A way to discover Lauren Pritchard, who does lots of wee gigs in UK, in London most of the times.
* On June 26th … What a day ! On this day, with Nini and Soso who came to spend some holidays in Scotland, I'll spend the evening with P!NK. After being at the I'm not dead Tour, then the Funhouse Tour, now it's the Summer Carnival Tour.The concert is in Hampden Park, 1st time I'm attending a concert in a stadium.
I would never think 1 second that this concert was bad … cause as always I'm looking forward to the next one ! As I know it will be bigger next time ! Ok … I know before a new tour we need a new album … but I'll be patient 🙂
I recorded some videos but not uploaded them on youtube … so in the meantime … you've got my pics 🙂 > here< * On July 23rd I'm doing a break to go to Belgium, with Anne Sophie I convinced to come with me at Sharleen Spiteri's concert in Ostende. It's been 9 years she hasn't seen her live … when she went out she was as pleased as us 🙂
It was a good thing for me to meet again lots of TEXANS as when we were all together when Texas was touring. Last time we did a big meeting was in 2006 ! It's been a while now … It would be great if next time would be soon … just saying …. 🙂
* Unusual evening, on September 10th, I'm going to spend an evening with Jill Jackson in this pub she likes in Beith. Good thing is that it's close from home … Good evening again 😉
* On October 23rd, another scottish is on my way … KT Tunstall. Last time I saw her live was in Strasboug in 2007. I really liked her last album straight after listening to it and I was pleased to go to her concert. Lisa was with me but I met Chantal, Virginie and Xavier who came from Paris, which is weird as I'm more used to be with them on a Sharleen or Texas concert …
The concert was full of good rythme and energy. I spent a really good evening and would really like to go and see her again soon …
* Last time I saw her live was in 2003 or 2004. This time, on November 13th, I'm going to Melissa Auf der Maur's concert. The one who made me start playing bass, this canadian girl with her own way to see the world …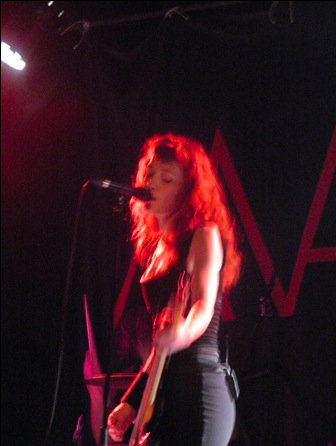 When I went to buy my ticket for KT Tunstall, that's when I noticed she was coming to perform in Glasgow too. No hesitations for me even if I didn't know anything about what she was doing these days … But nothing has changed appart from the members of her band …
Obviously she performed her old tunes too, which was great
I spent a really nice evening
Link to see her own pics of Glasgow : MADM Blog
* After all these palm trees in The L Word, here is a new drama that takes place in rainy sunny Glasgow : Lip Service
Everybody talks about Frankie, but one of the actresses is already known in UK cause she played in London Burning, Heather Peace. She's not the only one to be known in this show, but she's the only one to have 2 "jobs" : Actress and singer. Heather says it, she consider herself singer before being an actress. Saying by this … she's not doing bad.
This November 17th she was playing along with Jill Jackson (yes again ! 🙂 Not my fault if Jill worked on the soundtrack of the serie … ) at Sloan's. A way for me to discover Heather Peace in music. Her album isn't out yet so we have to listen to covers and some of her own songs.
Hallelujah
Pour les photos ça se passe ici : Jill Jackson + Heather Peace
**********
On November 24th I am in London for 3 days so I try to visit my friends there. Stephane ask me to go with him to a play which got a good review … After some good sushis, we're heading to New London thearter … well if only we manage to find it … to go and see War Horse.
The story of a 16 year-old boy who's friend is a horse. World War I starts and the horse is sold to go to France with the UK army. The teenager can't go as too young.
The play is so realistic, actors were really good (the best one were the goose and the singer 🙂 ). I understand better why it has such good reviews.
**********
* Beginning of December I'm in Lyon during a week. This time no excuse, no concert, nothing … only enjoying being with my friends and feeling a bit .. at home !
But … guess what … On December 14th, here I am with Nini, Ornella, Matthieu to go and see Yaël Naïm at Ninkasi Kao.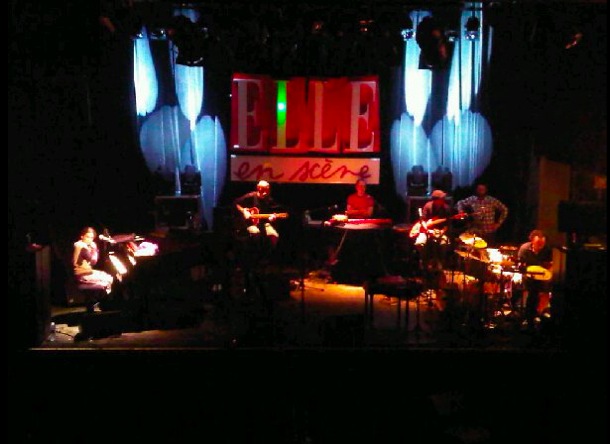 I first saw Yaël at the Nuits de Fourvière in Lyon years ago. Seeing her live once again when on her way to launch her new album was really great. She was as usual, peaceful, always smiling, making fun. It's really good to see her on stage.
Her supporting act was Brune, everybody in France know at least 1 song from her, I didn't, but it's been nearly a year I'm away from France so I'm kind of lost in french music now …
But having such an evening is good to refresh a bit 🙂 A big thank you to Aurélie for this evening 😉
Brune – Rupture Song
**********
2011 is now there, and obviously I have lots of concerts already planned (you thought with a new year coming I would have stopped ??? pfff :p) :
– January 20th : Ani DiFranco (+aftershow with Jill Jackson), Glasgow, O2 Academy
– January 30th : K's Choise, Lyon, Transbordeur
– March 16th : KT Tunstall, Paris, la cigale (I guess ?)
– April 1st : Heather Peace + Jill Jackson, Glasgow, Classic Grand
Others I will try to plan such as Zazie at the Nuits de Fourvière festival in June 20th