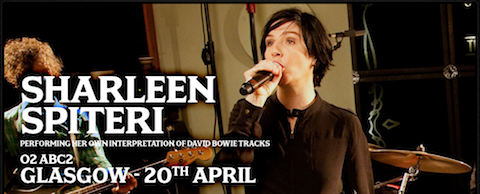 April 20th 2011, I won a pair of tickets to go to the JDSet (Jack Daniel's whisky) in Glasgow at the O2 ABC.
They organise different gigs in London, Glasgow, Manchester, inviting artists to perform songs on a particular theme.
In London, several artists like Tim Wheeler (Ash) will cover songs from Pixies, in Manchester it was covers from The Smiths, and in Glasgow it was Sharleen Spiteri, Kate Nash, Ramona, Ian McCulloch (Echo & The Bunnymen), Kid Adrift who will cover songs from David Bowie.
We waited a bit too long before the concert (about 1h 🙁 ) but then Sharleen Spiteri is on stage with some members of her band Texas. Artists will sing either solo or in duets.
Some well known songs such as The man who sold the world, Andy Warhol, etc … will be performed by the different artists.
As my pictures weren't as good as expected I started recording videos.
Kate Nash – Under Pressure
Sharleen Spiteri & Kate Nash – Life on Mars
At the end, Sharleen went to grab her guitar, cheered by the audience to what she answered "Ah you recognize me now" 🙂
She will then play 2 Texas songs : Black Eyed Boy, et Inner Smile
It was good for us … We are now looking forward to being in June 3rd at the Barrowlands for Texas concert !!! 🙂
It was a really good evening.
If you want more pictures it's better to go on JD Set website, you will find some videos too.