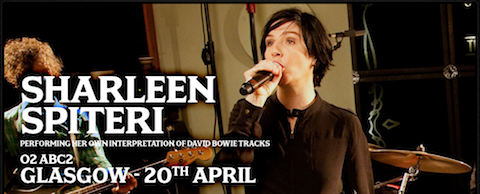 Le 20 avril 2011, je fais partie de ces gagnants qui pourront assister au concert donné à l'O2 ABC à Glasgow grâce au JDSet (du fameux whisky Jack Daniels).
En effet ils organisent plusieurs concerts entre Londres, Glasgow et Manchester en invitant des artistes à revisiter un thème particulier.
A Londres, plusieurs artistes dont Tim Wheeler (Ash) reprendront les tubes des Pixies, à Manchester ça sera sur le thème de The Smiths, et à Glasgow c'était donc Sharleen Spiteri, Kate Nash, Ramona, Ian McCulloch (Echo & The Bunnymen), Kid Adrift qui reprendront les tubes de David Bowie.
Après 1h d'attente trop longue à notre goût pour l'installation, entre en scène Sharleen Spiteri ainsi que les membres du groupe Texas (une partie). La soirée sera composée de duos, ou d'interprétations en solo.
On aura droit à plusieurs tubes de Bowie, comme The man who sold the world, Andy Warhol, etc …
Mes photos n'auront pas été ce que je voulais donc j'ai continué sur des vidéos.
Kate Nash – Under Pressure
Sharleen Spiteri & Kate Nash – Life on Mars
A la fin du set, Sharleen est allée prendre sa guitare, le public a applaudi et elle a commenté par un « ah maintenant vous me reconnaissez hein ? » 🙂
Et là elle nous a fait le plaisir de chanter 2 chansons de Texas : Black Eyed Boy, et Inner Smile
De notre côté ça nous a fait plaisir et nous a encore plus donné envie d'être au 3 juin pour le concert aux Barrowlands !!! 🙂
En tout cas c'était une bonne soirée, bien sympathique.
Pour plus de photos, vous pouvez aller sur la page du JD Set, des vidéos sont également en ligne.